Topic to be moved to somewhere useful please, not being an 18 or 10 footer
After watching the spectacular Balmain Bug videos online i thought that it was important for the AHSSA should have some record of the skiff that led to the association being founded.
Before and heightened in 1987 when Bruce Stannard released The Bluewater Bushmen, many including George Lundy and Wee Georgie Robinson told anyone in ear shot about the glory days. Rob "Angry" Tearne decided that just as important to document those times was the need to preserve the unique skills to build and sail our dinghy racing heritage. Wee Georgie was sketched by the Man himself and built out of foam/ glass to test the design and form a robust platform to devellop sail plans and also help the then emerging issue about hulls being required by local authorities to have bouyancy.
Wee Georgie was launched in 1988, archives include several newspaper articles and a test sail by Rob Mundle aired on the then 0-10 Network.
When the first timber 10 footer Janis ( Note The Dove was also built at this time by Reg Barrington & Len Heffernan & Wrecker, so the start of rivalry began) Janis was based around George Robinson ideas and photos, Angry tried to fuse modern and old build styles to help make the hull last longer by using epoxy glue on the stringers and ribs. The idea that this hull would be mostly dry and not in a humid boat shead was valid however the build style caused the planks to split.
The launch of Janis started my involvement with historical skiffs as i got to sail the now unloved 6 footer, unless the breeze was fresh and just like the originals the 10 used the 6footers big rig as her 3rd rig.
"Anyone will sail a six foot skiff once... getting them to do it again is the hard part!"
Paul Notary 1990
A few pics including an ongoing issue with Afloat stating wrong credits.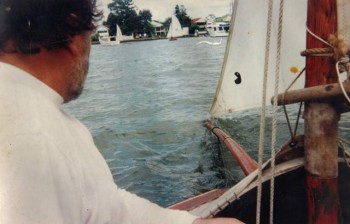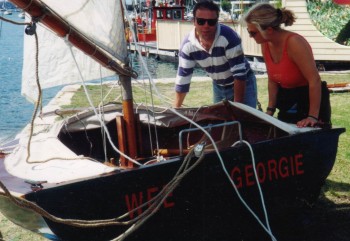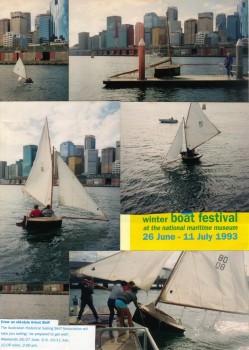 Posts

: 5


Join date

: 2015-05-30





Similar topics
---
Permissions in this forum:
You
cannot
reply to topics in this forum